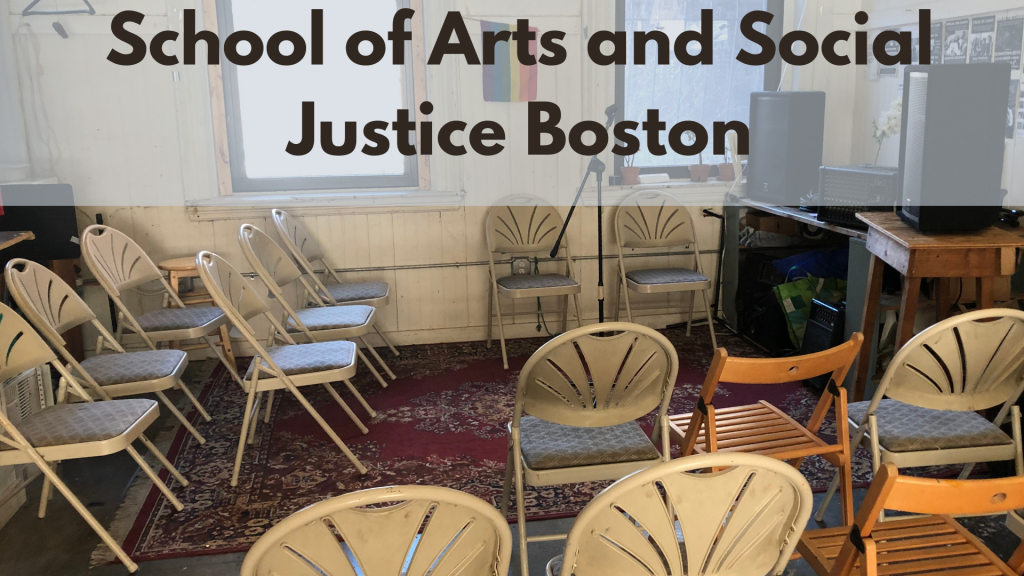 For the last two years, we have hosted a series of classes and workshops hosted by our phenomenal visiting faculty members. Our semesters run April to August. Here's a listing of our past course schedule:
Semester 1
Fat Justice 101, led by Ms. Fatastic on 2020.04.23 – An introduction to fat justice frameworks and movements with special attention paid to fatphobia in the time of covid-19. 2020.04.23
Queer Poetics through Quarantine, led by Mai Elise on 2020.04.30 – A youth-led class on how quarantine affects the Queer community, followed by a discussion on our thoughts surrounding what we as writers can do to support each other and a workshop on writing about your own sexuality and gender.
Staying Connected, Mindful Arts, led by Abby Neale on 2020.05.07 – A trauma-sensitive meditation practice focused on compassion building followed by an art therapy activity.
Radical Theory Made Accessible, led by Lilith Lennox Orion on 2020.05.14 – Students were guided through different radical texts that ranged from critical race theory to disability studies. Often these texts are incredibly dense and therefore inaccessible to the greater population. Time was spent breaking down each text and answering questions. The ultimate goal of the course was to bring the academy into the streets by providing those who were curious about radical theory with the tools to finally be able to read and understand the most important thinkers of our time.
Social Justice Filmmaking, led by Elliot Higger on 2020.05.21 – Students learned the essentials of pre-production and production to make a social justice video using only their cell phones. The workshop included skill-building games, story structures, framing techniques, and audio recording tips. 2020.05.21
Beyond Trauma Porn: Equitable Narratives in the Arts, led by Hassan Ghanny on 2020.05.28 – The phrase "trauma porn" describes any piece of media that unnecessarily broadcasts the undignified for public consumption. While this kind of narrative gets a lot of airplay in the media, it also tokenizes the marginalized people telling the stories in deeply uncomfortable ways. This workshop is intended to build storytelling skills that do not rely on "trauma porn narratives," giving students a blueprint for how to move away from a personal narrative "war story" and towards a creative piece that'll get you snaps at the open mic.
Songwriting for Social Change, led by Ava Sophia on 2020.06.18 – A workshop on the role of music and songwriting in propelling social change. Through analysis and practice, we write songs that empower us to imagine the change we want to see to create a more equitable world.
Reclaiming Imagination: an Exploration into the Worlds We Want, led by payal kumar on 2020.06.25 – Imagination is the catalyst that takes us from reform to revolution, from tempered expectations to transformation. In this workshop, we collectively and playfully activate our imaginations to envision the worlds we want beyond the limits of what we're told is possible. Using imagination as an individual and collective process of mapping what "was" to conjure up what "could be", we draw on the tradition of abolitionist dreamers, Afrofuturism, and our own embodied expertise to explore what exactly makes imagination "radical" and how we can use it to ferment new possibilities in the present. Participants will leave with a greater appreciation for the role of collective creativity in revolution, as well as with a new framework for accessing their own imaginative powers.
How to Craft a Protest Chant, led by Flight Or Visibility on 2020.07.02 – Have you ever been to a rally where organizers have clearly put a lot of time and energy into creating chants, but the chants are just not working? In this class, we explore the musical language of protest chants and talk about why some chants are picked up by a crowd while others fall flat on their face. We then have some time to craft new chants for future rallies.
Debunking the "Nice White Woman", led by Lilith Lennox Orion on 2020.07.16 – White women are given the perception of innocence—this innocence is weaponized. As we move through these times it is important to recognize the most dangerous and insidious forms of supremacy, white women who are protected from consequence while perpetuating harm. This class focuses on how to confront the nice white woman inside yourself and how to confront her racism in the workplace. We must be bold and courageous as we challenge white femininity as a weapon.
Be Safe and Be Heard: Vocal Projection and Diction while Masked, led by Nora Borealis Maynard on 2020.08.13 – Build the vocal skills to speak clearly even with a mask over your nose and mouth.
Semester 2
Protest in Poetry, led by Najya Williams on 2021.05.15 – An examination of how we can use the gift of poetry to raise our voices for equity and justice for ourselves and the communities that hold us.
Nuestras Canciones de Liberación/Our Liberation Songs, led by Doctora Xingona on 2021.05.20 – A focus on listening, writing, improvisation, music, and performance exercises helps students find their most expansive, roaring voices.
Painting as Social Activism, led by Sumeya Ali on 2021.05.27 – Highlighting paintings by Black and Brown artists created in response to to current social issues, including police brutality, gives insight into how painting has historically been and still is used as a form of resistance.
Unlearning Ableist Metaphor, led by Ilyus Evander on 2021.06.03 – Students explore the use of ableist metaphor in poems (e.g. blindness or deafness as a metaphor for things unknown, calling a behavior crazy) and are challenged to come up with better, stronger images to make the same points in their own work.
Best Practices when Photographing Protests and Actions, led by Echo Harris on 2021.06.17 – Basic instructions on keeping oneself and others as safe as possible when documenting protest movements.
Laughing Through It All: Comedy as Coping with Oppression, led by Lavender on 2021.06.24 – A discussion of the history of comedy as a way to deal with oppression and hardship. Students weigh the benefits and risk of this approach to better understand the ways in which oppression affects marginalized people.
Self Portraits and Identity, led by Katiana Rodriguez on 2021.07.13 – Students use self portraits to create an open conversation about growth and expression through art.
Voice for All Genders and No Genders, led by Soren Austenfeld on 2021.07.22 – Students explore trans-centered tools for empowered speaking and singing, including a variety of vocal techniques to help trans people who experience gender dysphoria speak and sing in euphoric, vocally-healthy ways.
Mainstreaming Disability Justice, led by Sam Fein on 2021.08.05 – Students reimagine their understanding of dis/ability, confront internalized ableism, and offer creative frameworks that center the leadership of disabled people within larger social justice movements.
Spatial Poetry, led by Hua Xi on 2021.08.19 – Students examine the history of poetry influencing place names and consider how the names of streets and cities are intertwined with America's history of colonization.