Boston, MA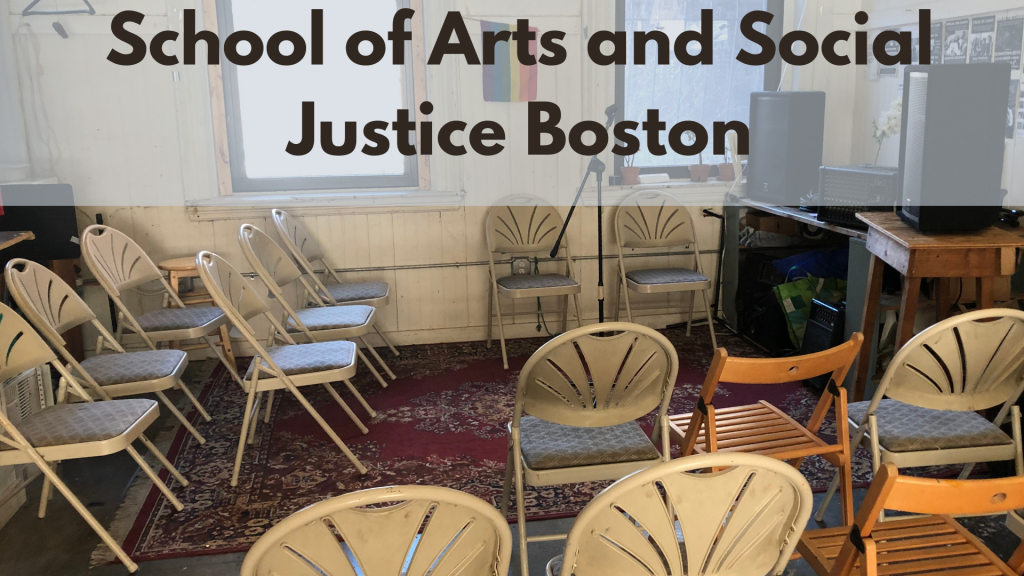 We're in the middle of our third semester! Wanna join in? Check out our class schedule!
Mission Statement:
School of Arts and Social Justice Boston provides accessible, community-led programming at the intersection of activism and the arts.
About:
Established in Spring 2020, School of Arts and Social Justice (SASJ) Boston was founded as a way to maintain community and offer new artistic and mutual aid initiatives to the supporters of Make Shift Boston, (a community performance and organizing space in Boston's South End). Programming centers LGBTQ people, people of color, immigrants, and people with disabilities. Unlike other adult education programs, SASJ classes are online, professionally captioned, and entirely free. Our classes are one hour in length, with alla carte registration, allowing students to choose only the classes that pique their personal interest. The majority of our faculty and students are LGBTQ and working-class.
Interested in learning more? Meet our staff, read faculty bios, or check out descriptions of our past classes.
Testimonials
I had the pleasure of taking the workshop entitled Reclaiming Imagination. The workshop helped me tap into my imagination and see the strength, resiliency, and hope in a community coming together to imagine a better future. It has influenced how I approach my teaching and how I view myself as a creative agent for positive change in my artistry.

-Valerie Thompson, SASJ Student
Spaces like this are so vital to not only build resilient community during an isolating time, but to also uplift the unique wisdom of those around us in a way that is accessible and thoughtful. This initiative critically disrupts the binary between teacher and student, empowering us to share our skills/knowledge as experts of our own experiences while also tenderly pushing us to keep growing along with our communities.

–payal kumar, SASJ Instructor
I really appreciated the opportunity to bring experimental teaching and liberating pedagogy to a diverse audience. It is rare to teach social justice art workshops to participants who might not attend a workshop in a more academic environment. I also loved that the space incubates creative DIY projects that might not have an accessible space otherwise.

-Abby Neale, SASJ Instructor (wait for it) AND Student